1. Location and Size

The Bolgatanga District is located within the Upper East Region of Ghana on latitudes 10°30' and 1°55' North and Longitudes 0°33' and 1°00' West. It has a land area of 1,620 km². The District is boarded by North: Bongo, South: West and East Mamprusi Districts (N/R): Kassena-Nankana District East: Bawku West District.



2. Topography and Drainage

Flat characterised by gentle slopes ranging from 1% to 5% with inselberg outcropped uplands with more than 10% slope. Major rivers include the Red and White Volta tributaries. Other drainage systems include rivulets, streams, dams and dugouts.



3. Climate

Alternating wet and dry seasons
Rainy Season: May to October
Dry Season: October to March with harmattan winds in November and December
Mean Annual Rainfall: 950mm – 1100 mm
Temperatures: Maximum: 45°C in March/April, Minimum: 12.8ºC in August
Relative Rainfall Variability: 17% (Wet season) Rainfall very erratic.
Humidity: 91% (July to September), 15% (December to March)



4. Vegetation

Guinea Savannah Woodland consisting of short deciduous trees widely spaced and a ground flora composed of different species of trees and shrubs. Bushfires are a persistent feature of environmental degradation and deforestation.
Economically important tree species – sheanut, dawadawa and baobab trees.



5. Geology and Minerals

District falls within the Birrimain rocks of Ghana.
Minerals Deposits: Gold Deposits along Nangodi Zug – Dushi, Sheaga and Kalbeo – Sherigu areas. Manganese deposits between Nangodi and Dushi and North-West of Pwalugu. Large deposits of clay throughout the District; Zaare, Gambigbo, Zanlerigu, Yikine, Kalbeo and Pwalugu.
Granite deposits at Tongo and Sekoti suitable for stone quarrying.



6. Soils

Soils developed over granites and sandstones
Good arable soils suitable for cereal cultivation
Moderately good soils for grazing and deep alluvial soils for vegetative irrigation.
Ecology
Guinea Savannah Zone with a single rainy season in a year. Vegetation is of a Guinea Savannah type.



7. Agriculture and Land Use

Land basically allocated for farming, grazing, forest reserves, settlements, road network, water reservoirs, etc. Main crops cultivated millet, guinea corn, groundnut, tomatoes, etc. Average farm size 0.4 -1.2 ha. Mode of Acquisition - Inheritance, chief, family head.



8. Natural Resources

Land for agriculture purposes, labour, minerals deposits, water bodies for fishing and irrigation and few forest reserves.



9. Demography

District predominantly rural (85%) except Bolgatanga and Tongo with population of more than 5,000 people. Rural Population – 85%.
Population 1960 - 150,028
1970 - 172,202
1984 - 237,393
1995 (Estimated 328,608
1996 –
Population Growth Rate - 3.0%
National Population Growth Rate 2.8%
Population Density (1995) - 203 persons per km².
Bolgatanga (the only urban centre). Regional and District capital had a population of 49,748 (1995 population Estimates).



10. Household Size

Ranges from 2-4 (small), 5-9 (Medium) and 10 and above (large). Households largely headed by men. Large household sizes of 5 –13 are not uncommon in the district.



11. Occupational Distribution of Labour Force

Agriculture: 57%
Trade and Commerce: 19%
Manufacturing: 11.9%
Community/Social Service Sector: 7.4%
Others (i.e. mining, quarrying, construction, utility services, etc.):4.55%
Dependency ratio: 1:101



12. Settlements

Major - Bolgatanga, Tongo, Zuarungu, Sekoti, Yikine, Sumbrungu, Sheaga,
Nangodi, Kongo, Winkogo, Pwalugu and Pelungu.
Ethnicity - Gurunne, Nabdam and Talensi



13. Social Development
Festivals:
Golgo celebrated by Tongo and Tenzuk communities.
Daa, Naba-Yesiga, Bogram Goo, Tingama, Sinyaga and Adaakoya are thanksgiving at Post-harvest celebrations by the Baare, Sherigu, Sekoti, Tongo, Balungu, Pwalugu and Bolgatanga people respectively.
Family Inheritance: Patrilineal system
Education:
i. Institutions: Pre-school - 30, Primary - 81, JSS - 44, SSS - 5, Technical - 1, Vocational - 1
Total - 162
ii. School Enrolment by Circuits in Bolga District (Nursery/Day Care, Primary and JSS)

iii. Enrolment ratios

iv. Staffing Position: - 75.9% of total teacher population is in the Bolgatanga Schools with the remainider being in the rural schools.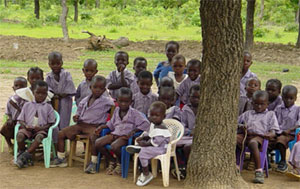 v. School Structures

vi. State of furniture
a. Number of schools furnished
b. Number of schools not furnished
c. Furniture requirement
vii. Other indications
Health

Top four (4) prevalent diseases -Malaria, Anti Respiratory Infection (ARI), Diarrhoea diseases and skin diseases.
Health Facilities: - Distribution fairly good. Services consist of public, private and non-Government institutions and herbalist. Presently there are 19 health institutions in the district.
Staffing of Health Facilities -averagely satisfactory
Water Supply

Urban water system, pipe borne limited to Bolgatanga Township. Rural system is undertaken by COWAP, Rural Aid and covers mainly rural settlements. GWSC provides water through the treatment plant at Gowrie, two (2) mechanised and 331 hand pump bore holes.
Sanitation
The District has inadequate liquid and solid waste disposal facilities. Public toilets are limited to Bolgatanga Township in a very deplorable state. Sanitation in the rural areas also not satisfactory.
Other Social Services and Amenities
The District also has limited social amenities in the rural areas. Rural communities lack electricity, postal and telephone, recreational and sporting and proper sanitary facilities. These amenities exist only in the Bolgatanga Township.
14. Structure of Local Economy
There is a large agricultural sector most at the subsistence level, which accounts for 80% of the income of people. Crop/Livestock production constitutes important aspects of agricultural activities.
Income generating activities include, small scale industries such as blacksmithing, crafts and small scale mining. These constitute the informal sector.
The formal sector is relatively small.
About 49% of the district's population is engaged in the major formal and informal economic activities.
Roads
Total length of roads - 408.3km
Paved - 82.6km
Earth - 325.7km
Market
Big markets in Bolgatanga, Pelungu, Kongo, Sheaga, Sumbrungu, Pwalugu and Tongo. Items traded include Foodstuffs, livestock, and local crafts. Markets however lack necessary infrastructure and marketing space.
Financial Institutions
Standard Chartered Bank, Social Security Bank, Ghana Commercial Bank, National Investment Bank,
Agricultural Development Bank, Non-Banking Financial Institutions like the State Insurance Corporation, Great African Insurance Company and the Credit Unions Association, all concentrated in the Bolgatanga Township.
Tourism
Places of cultural and historic interest include the Bolgatanga Museum, Bolgatanga Market, Crafts and smocks, Tongo Hills, traditional festivals, Elephants and other game in Red Volta Forest Reserve.
Irrigation
Twenty-five (25) dams and Fourteen (14) dugouts exist in the district located in Bolgatanga, Sumbrungu, Pwalugu, Tongo, Nangodi, Zuarungu, Kongo and Pelungu.

Spatial Organisation
Spatial imbalances, polarization and economic segregation are manifest in the district with almost all facilities (education, health, good housing, commerce and industry, Police, judiciary, infrastructure, transport, Post and Telecommunication, electricity, hotels and restaurants) concentrated in the Bolgatanga Township.



15. Environmental Situation
Degradation of the environment through inappropriate farming practices, soil erosion, small scale mining, bush fires is very evident in the district.
Following from the above, the Bolgatanga District is generally distressed and characterised by the following:
- Reduced accessibility owing to few and poorly maintained access routes especially within the peripheral settlements and between them and the urban centre.
- Poorly built human settlements characterised by poor drainage system, inadequate and poorly located solid and liquid disposal sites, inadequate and poorly maintained faecal disposal units and poor housing.
- Low per capita incomes reflected in low level standard of living.
- Low agricultural production restricted largely to the subsistence levels.
- Congested and poorly developed market infrastructure.
- Persistently degraded natural and built environments arising from indiscriminate small scale mining activities and perennial bush fires.